Planning on coming to Andorra? We have amazing ski resorts, wondrous mountains, and a friendly community, all of which you can enjoy for a season or the rest of your life.
Maybe you've heard about the incredible benefits of the country like very reasonable tax system, excellent healthcare, low cost of living, and you want to start enjoying them, too.
Whatever your reason for coming, you need to know about Andorra's visa requirements before you visit the principality.
This post will be a comprehensive guide on Andorran visa information and will review several topics that apply to both tourists coming for an incredible holiday and for those who plan to settle and work in our beautiful country.
I'll start each section with a brief snapshot of what you need to travel or live in the country. Then I'll delve into the details and requirements you must fulfill before jumping on the plane.
Visa Requirements If You Want to Live in Andorra
Living in Andorra requires you to apply for residency in the country. You must head to Andorra's immigration department and follow their procedures for applying for permanent residency (or find a local expert to handle this for you).
A resident visa will allow you to live in the country for longer than the 90-day tourist allowance. Once a resident, you can benefit from Andorra's policies and services like low income tax rates and a public healthcare system.
You'll have to bring several documents and file an application for a residency permit, and although the process is relatively simple, it will take some time before you have a residence visa.
There are two main options available: passive residency and active residency. The main difference lies in whether you're going to work in the country or not and the initial financial investments you're willing to make.
Let's start with active residency, the visa type that you'll require if you want to work in Andorra.
Active Residency & Andorran Work Visa Information
In this section, I am going to address the different visa requirements for those who are self-employed, have a full-time job, or work on a seasonal permit.
You can find the legal requirements and documents you must present to apply for this status in this detailed guide to Andorra's active residency permit.
If you want to work in Andorra, either for your own company or you'd like to be hired by a local company, you're going to need an active residency permit. This will allow you to stay indefinitely in the country and seek a job.
One thing to keep in mind is that Andorra has a set quota of permits for foreigners applying to reside in the country through active residency. As of April 2018, there are 900 permits available this year.
Visa Requirements for Passive Residency in Andorra
If you want to live in Andorra (for more than 90 days per year) but don't want to commit to operating a company that services the local economy, you'll be best served to look at a passive residency permit.
Applicants are required to make investments in the country, though this varies based on the type of passive residency you choose. Follow our guide on passive residency in Andorra for more information pertaining to this type of visa.
Visa Policy for Seasonal Workers
What if you want a job in Andorra just for a season? Maybe you want to work for a couple of months and then go back home without having to apply for residency.
Well, Andorra's tourism sector has acknowledged this issue, and there are several companies, like the large ski resorts Vallnord and Grandvalira that provide legal assistance for foreigners looking to work in Andorra during the winter season. This assistance ties a temporary work permit to the seasonal worker's employment contract.
These contracts allow you to work and live in Andorra during your season. However, once the duration of the contract comes to an end, you'll have to leave almost immediately.
Seasonal workers enter the country just like tourists, but to apply for a job you must bring all your legal documentation and be aware that any permit will be temporary. Again, once your contract ends you'll have to leave the country unless you can find another employer to help you find active residency.
Follow this guide on How to Find a Job in Andorra for Foreigners for more information on what to expect while working in the country.
More Information on Residency Visas
You can find several guides about residency which cover all the information you need to know on the subject before consulting a professional. You can find them here:
Andorra's Visa Policy for Visitors
The main headline on Andorra visa requirements for tourists is that you don't need one if you're staying for less than 90 days. As a tourist, all you need is your passport to come and enjoy the pleasant experience that is discovering Andorra for the first time.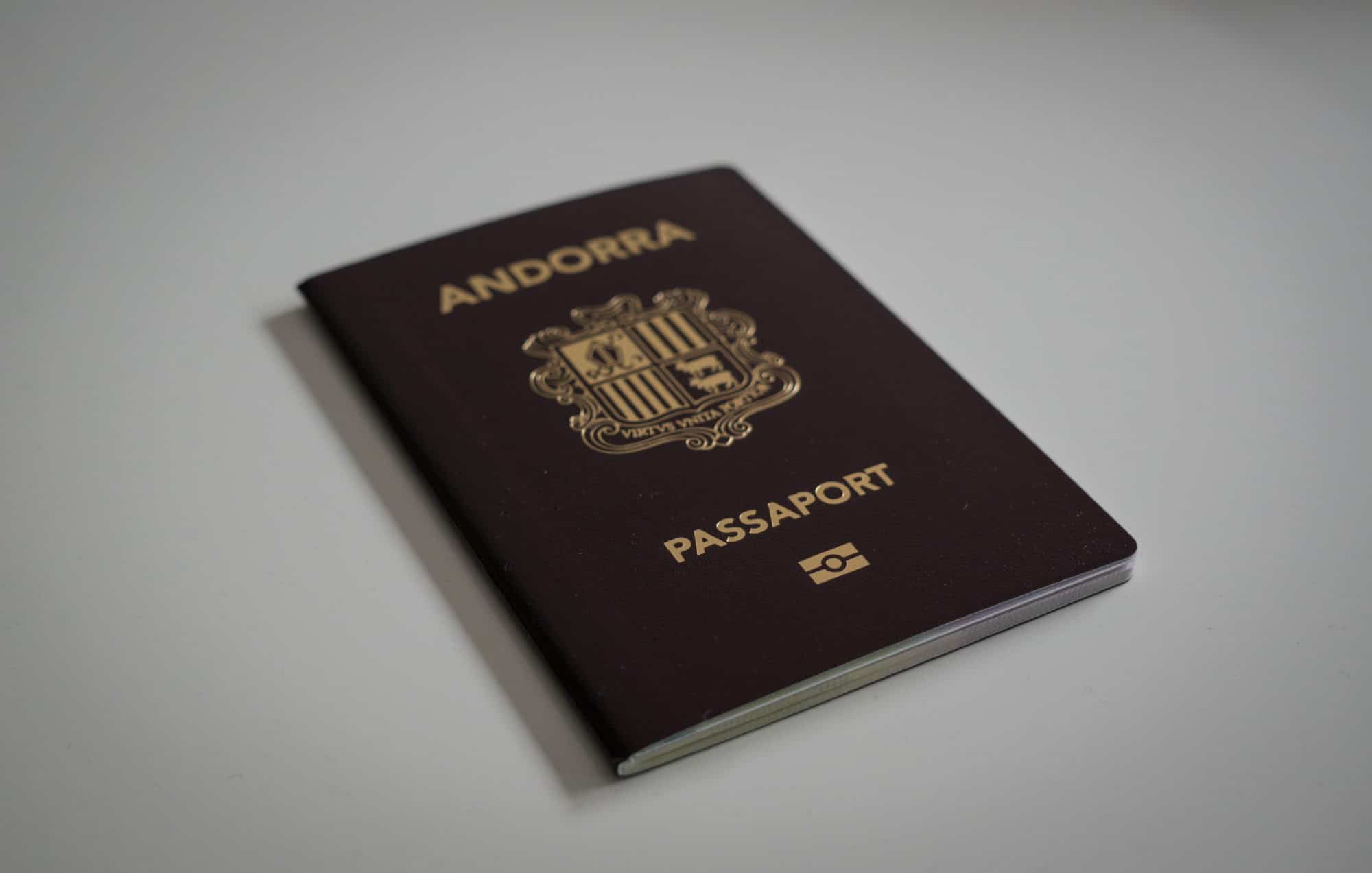 There's one small issue that arises from Andorra's territorial situation. Since the country is landlocked and the only entrance is from either Spain or France, you must comply with the Schengen visa rules for entering Andorra.
To check if your country of origin requires applying for a Schengen Visa, review the list provided by European Commission Department of Migration and Home Affairs on their official website.
Although visiting Andorra is a straightforward process and you won't need loads of paperwork to enter the country, you might want to review the details on visa policies that I've compiled below.
Do I Need a Schengen Visa for Traveling to Andorra?
If you're visiting Andorra and you're a resident of any of the following countries you're exempt from filing additional paperwork for short stays in Andorra:
Any nation part of the Schengen Area
Countries that are a member of the European Union or the European Economic Community
Canada
Japan
United States
If your country is not on this list, it doesn't mean you can't travel to Andorra. It just means that technically you'll need to apply for a multiple entry Schengen Visa to enter and exit Andorra through Spain or France.
I say technically because most of the time you can drive across the border without any issue.
Schengen Visa Requirements
You can find more information in this guide to Schengen visas and Andorra. Have a read of that guide and then take a look at the standard requirements that consulates may ask for when applying for a Schengen visa, according to the European Commission of Migration and Home Affairs.
Andorra's Visa Requirements in a Nutshell
For tourists, Andorra is an easy place to visit, and as long as you plan to stay for fewer than 90 days, you don't need any special approval from the Andorran government. The only complication to Andorra's visa policies is that you must travel to either Spain or France to get into the principality.
If you're lucky enough to be from the list of countries that don't require a Schengen Visa, you can travel right away with nothing but your passport.
If you want to move to Andorra, the government requires you to apply for residency. There are streams for those who want to work in Andorra (active residency), those who just want to live in Andorra (passive residency) and short-term workers (seasonal work permits).
Once here, I'm confident you'll find that Andorra is a welcoming place. That applies to the people and our community and to the government's requirements for issuing a residency permit.
If you have any issues or doubts about getting a visa to live in Andorra, feel free to contact me, and I can help you with your specific scenario.