Andorra's passive residency program offers visas to individuals that wish to become a resident of the country, while performing most of their economic activities outside of it.
Residency in Andorra allows individuals to legally minimise their tax while maintaining an enviably high standard of living.
Initially, passive residence permits are given for 2 years. This is then renewed for another 2 years, then 3 years, then 10 years. After 20 years, you can apply for citizenship.
Applicants must complete a criminal background check, while also providing proof of income and private health insurance.
Income must be at least 300% the average Andorran annual minimum salary of €13,457.64, so you will need to show €40,372.92 in income each year. If applicants are bringing family, this same rule must be applied to each family member except at a rate of 100%.
This means a 4 person family with 3 dependents would need to show an income of €77,999.76.
These visas have helped increase the population of Andorra, as you can see from this population graph:
For all types of passive residency in Andorra, a mandatory investment of €50,000 must be made into Andorra's economy. This is done by investing in a government bond with Autoritat Financera Andorrana, "AFA".
Types of Passive Residency in Andorra
There are several types of passive residency which applicants can be eligible for. They all have their own unique set of requirements and benefits.
Residence Without Lucrative Activity
Individuals applying for this visa need to make a €400,000 investment. This €400,000 includes the €50,000 deposit with AFA.
Holders of this visa are not automatically considered tax residents, but must spend at least 90 days per year in Andorra. If applicants spend 183 days or more in the country annually, they will become fiscal residents and therefore liable for taxes.
You will be required to earn 300% of the minimum salary and an additional 100% for other dependents as previously mentioned. Private medical insurance is mandatory, so you will also need proof of this to fulfill immigration prerequisites. Old age and incapacity insurance may also be needed.
As an applicant, you have a 7 month window to prove your €350,000 investment in the country. If Andorran property is purchased, you will need to send a compromis de compra-venda, or purchase agreement to immigration.
There are many websites that you can use to find property in Andorra for sale.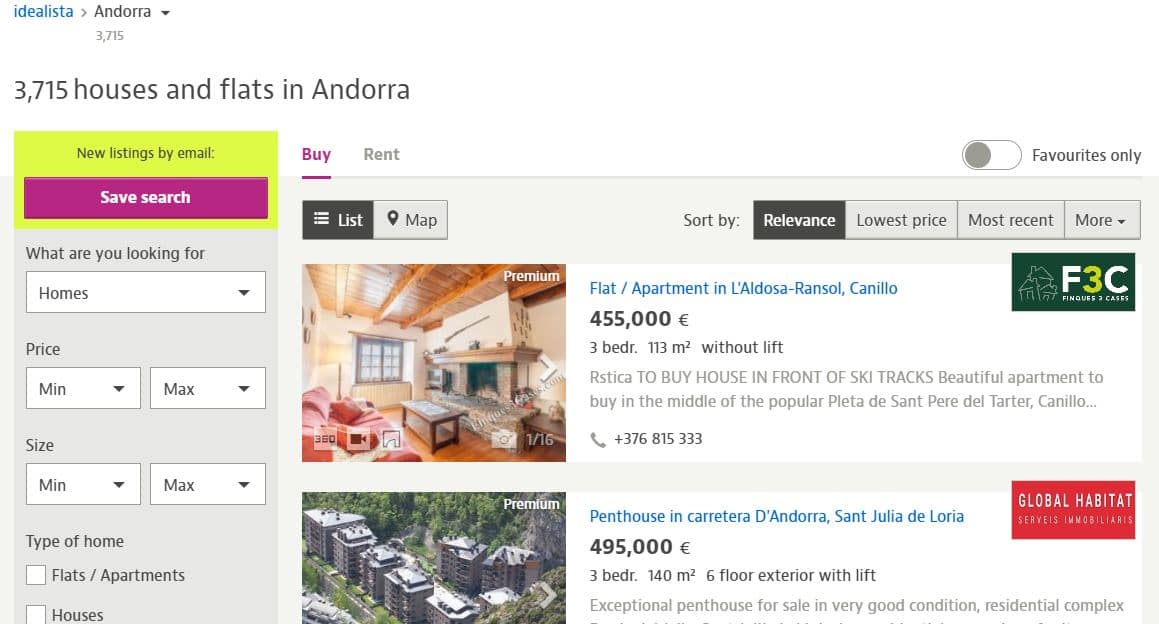 If renting is preferred, the rest of your €400,000 investment must be made through other means, such as:
Professionals in International Business
Not to be confused "compte propi", Andorra's active residency program, this type of residency is best suited to those doing business abroad.
In addition to the €50,000 government bond, applicants are required to form an Andorran company, spend at least 90 days within the country annually, and conduct 85% of business outside of the country.
While you will be deemed a passive resident and may not be liable for income tax, your company will still be subject to the Andorran tax system.
During the application process, you must submit a 3 year business plan with any supporting documents. Applicants must be able to prove their experience with the type of business they are proposing. A resume can be used, along with references and copies of relevant documents.
Once the business plan is approved, you will have 7 months to officially form the company.
Internationally Accredited Athletes, Scientists & Artists
This option for residency is similar to that of those with independent means, except it's directed at professional athletes, scientists, performers, artists, and similar high-status individuals. 85% of your profession must be carried outside of Andorra.
There is no requirement for investments for this passive residency outside of the €50,000 government bond, making it unique among other systems.
Acceptance is performed on a case to case basis but you must provide documents including:
Qualifications, achievements, and success within your career
Balance sheets and an income report
Supporting documents such as awards or accreditations
Getting Insurance for Your Residency
Passive residence in Andorra requires the applicant to hold three types of insurance:
If you do not have insurance before moving to Andorra, you can purchase all three with a local insurance company for around ~€1,250/year. Residents under 18 years of age or over 60 only need health insurance, which starts ~€900/year.
Changes to Document Requirements
Before February 1st, 2014, certain EU countries required extra documentation to apply for passive residence. Some of these countries included:
Poland
Bulgaria
Czech Republic
Romania
Latvia
This prevented many individuals from receiving residency or made the process more difficult. These obligations have now been lifted, and all EU countries are treated the same way.
Passive vs Active Residency
With the various options for future residents, you might be curious what mainly separates the two. Active residence is primarily for individuals that wish to live and work in Andorra full time. Their rights comprise of:
Healthcare coverage
Ability to take advantage of Andorra's employment services
Access to language training resources
Help with employment related problems and support
With active residency in Andorra, visa holders will also have duties they must fulfill. These include:
They must be enrolled in the Andorran healthcare and social security system.
Their immigration permit must be on them at all times.
The Andorran government must be notified of any changes they make to their address, marital status, or similar sensitive information.
Their home country consulate may require them to visit and register.
Passive residence on the other hand, entails not partaking in professional work while in Andorra, other that in the International Business category. It is better suited for entrepreneurs or those interested in retiring in Andorra. Those seeking employment though, will benefit from becoming an active resident.